As some of you may have been aware last month was a particularly difficult one for a fellow blogger, the lovely Emma Day from Crazy With Twins.
Emma was diagnosed with thyroid cancer which required a period of isolation whilst she received radiotherapy treatment and, perhaps even more difficult, a recovery period where she was not allowed within several metres of her babies until all the radioactivity was out of her system.
Thankfully, fighter that she is, she was able to kick it all out of her system sooner than expected and is back in the arms of her family.
Having had the pleasure of meeting Emma at Blog Summit earlier this year it does not surprise me at all that she is about to run the Race for Life in aid of Cancer Research despite having only just been through all of this. She is one determined lady. (She even helped me scour the entirety of M-Shed in Bristol in order to locate a much needed bar of chocolate for my very pregnant self.) I know she would really appreciate any donations so if you did have £1 to spare you can donate via her just-giving page here.
This blog-hop has been running throughout the last month to show our support for Emma and try to help her through a testing time with things that will make her smile so I have put together a selection of images that I have stumbled across which I hope will make her giggle.
She has also asked that we take this opportunity to encourage each and every one of you to seek advice IMMEDIATELY if you have a lump or bump about your person that is causing you concern. In Emma's own words.
"Tell them not to leave it years like I did."
So finally I would just like to say that I am proud to be standing 'Shoulder to Shoulder to Day' and taking part in this blog-hop and here are my funnies Emma just for you x
Image Credit: www.happyplace.com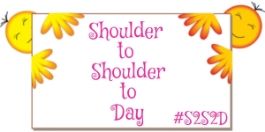 <div align="center"><a 

href="http://www.vevivos.com/2013/05/16/shoulder-to-shoulder-to-day-the-rota-and-details/" title="Shoulder to Shoulder to Day"><img src=" http://i1322.photobucket.com/albums/u568/ToriWel/811fe3d0-1420-4987-9719-6c146ee76adb_zps87798b9c.jpg" alt="Shoulder to Shoulder to Day" style="border:none;" /></a></div>